Unsure about which google ads extensions you should be using in 2020?
Ad Extensions are one of the best features of Google Ads that you can use
But knowing when, why and where to use them is way different story.
Throwing ad extensions on your ads for the fun of it is a surefire way to reduce your CTR and negatively impact your ads.
Since they play a role in your quality score, misuse can result in more than just bad CTRs
With so many options, it's more important than ever before to use them in a correct way.
In this blog we will learn about how ad extensions work and how each of the different types can benefit your business.
What are Google Ads Extensions? 
Ad extensions provide an opportunity to expand your ad and further help persuade people to choose your business. Essentially providing you more space to communicate key pieces of information, which audiences would find useful.
Extensions can include, but are not limited to phone numbers, links and reviews for no extra cost, this is a great way to maximise your ads and stand out against your competitors.
What are the benefits? 
Google reports that ad extensions increase an ad's click-through-rate (CTR) by several percentage points. In recent studies conducted by google, utilising sitelinks on an ad has meant the CTR had increased by 10-20%. By increasing your CTR points you in turn contribute to increasing your overall quality score.
Your quality score is made up of your CTR, keyword relevance to the ad group, landing page quality and relevance, as well as ad test relevance and historical Google Ads account performance. It's not really known how much each component contributes in the google score algorithm, but we do know that your CTR holds the most weight. So with this in mind the more people who click on your ad, the more Google will see your business as the most relevant and helpful. For this Google will rank your ad higher and at a lower cost.
What are ad extensions and what are the types of ad extensions? 
With many businesses changing the way they operate, it's important more so than ever, that your extensions are complementary to your business operations and still meet the users
search query. To do so, you should consider using a Google Ad Extension, but what are the most recommended google ads extensions in 2020?
Google simply recommends that you use every extension relevant to your business, this could include adding sitelinks, callouts, structured snippets and perhaps call extensions.
As an example, if you were a local clothing brand looking to encourage people into your store, the top google ads extensions to use would be location extensions or affiliate location extension if your products are located in retail chains. Another extension recommended would be callouts, allowing you to highlight offers.
Extensions are categorised under two main groups, automatic and manual. Manual ad extensions often require more thought and set up, but is recommended as you have more flexibility of the message.
Top Google Ad Extensions to use in 2020 
Call extensions 
Overall the top google ads extension most recommended to be used and that is call extensions. By adding your phone number to ads, the potential client is able to click and call without even having to go through to your website. Bear in mind that a mobile call using the extension will cost the same as a click.
Make sure you integrate your phone number with Google conversion tracking in order to measure your results.
Local and Affiliate extensions 
Local extensions are a great way to increase foot traffic to your store. As an example, if a potential customer searches "cafe near me", your business will be shown with a clickable link and directions to your location.
If, however, you sell products or services via a retailer, you can still use extensions to direct customers where to buy.
Sitelink extensions 
Another top google ads extension recommended to be used, and that are sitelinks, used to direct audiences to specific pages on your site such as product pages. When clicked on, audiences can go directly to what they want to buy or know, reducing potential drop offs which may occur when manually searching through the website.
Sitelinks have reportedly shown to increase CTR by 8%. Taking into consideration that CTR directly impacts on your quality score and overall decrease advertising cost, it is well worth using them.
Callout extensions 
Perhaps one of the most useful google ads extensions in 2020, the callout extension provides areas of descriptive text which allow you to communicate your 'callout' features. Whether you want to promote 24/7 customer service or the latest products offers, callouts are dynamic and can cover all your business offers.
Structured snippets 
Allowing you to provide more depth and working similarly to site link extensions, in structured snippets you can list products or services you offer rather than using hyperlinks.
By displaying exactly what you do, those who do click your ads will be the right kind of audience who are most interested in your offers.
If you are a business like Social Tradia, showing your entire collection of products for sell in a structured snippet allows you to show your business clearly off to potential customers.
Price extensions 
Another top google ad extension to use in 2020, that  provides potential audiences with your offers and prices and creates shortcuts to conversions. This you can do through price extensions.
Using this tool you can promote generic prices, in the below example the company promotes their base price range. Allowing the customer to instantly know what services you provide and at what cost.
Promotion extensions 
Promotional extensions can add more value to your search text ads. Displayed in easy to read format, any promotions will stand out against the main text.
With flexible scheduling you can set promotions to only be shown within a certain date range and on selected devices.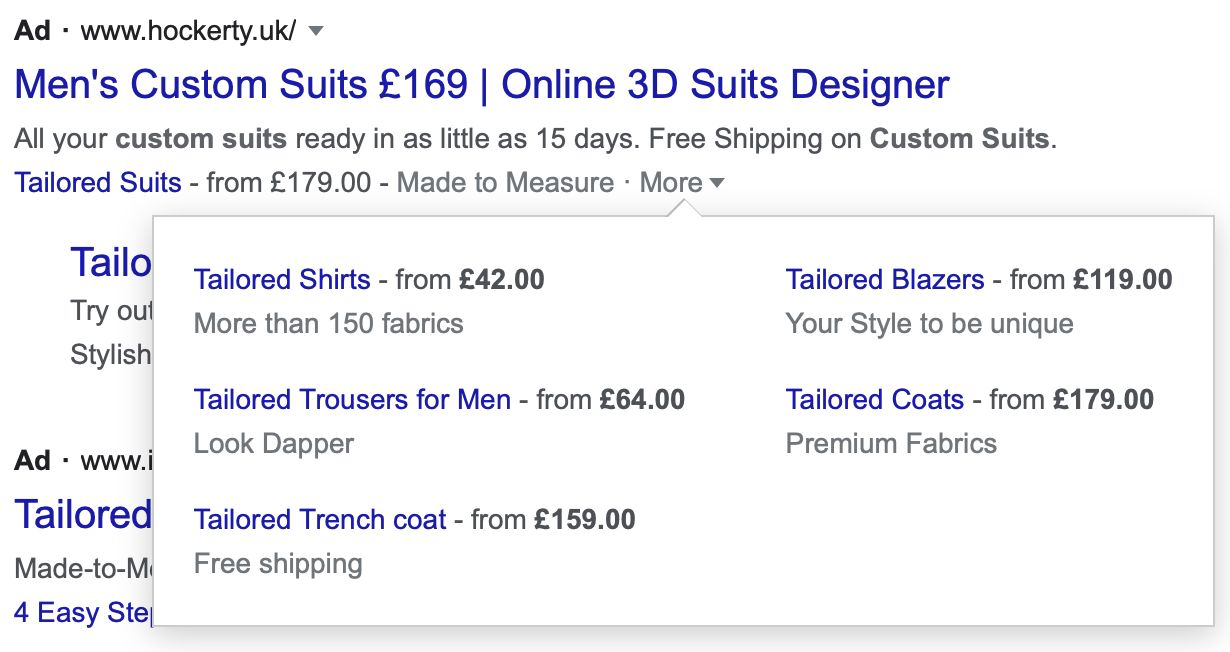 App extensions 
Limited to mobile users only, app extension call to action (CTA) will direct users to the appropriate app store. It's reported that 51% of people purchase products on their phones would rather use an app than a website, making this one of the top Google Ads extensions available.
How to make your extensions more likely to be seen? 
Firstly, Google has to approve your extension just like ads and keywords. If your extensions are disapproved it will not be shown. But, there's more to it than just getting approval. Your extension/s needs to be predicted to improve the ad performance. After all, Google Ads aim is to display the most relevant advertising as possible.
Secondly, your ad position needs to be high enough for the extensions to be displayed. In the below example, the advert is ranked first which has allowed for the site link extensions to clearly be shown.
Overall the quality of your ad and the strength of your bid can affect whether or not your extension shows.
How many ad extensions can show at once? 
When planning your ads you should only include extensions which best benefit your business. With this in mind, the maximum number of extensions shown on an ad per particular query is 4. Extensions are designed to co-trigger so they can be shown together.
Which google ad extensions can serve automatically 
Automated extensions are great for those who are a little unsure of which extension would work best with their ad. Google ads will automatically create extensions which they predict to improve your ad's performance and show it alongside eligible ad types.
Much like manual extensions, the different types of automated extensions include, site link, structured snippet, location, call out and review extensions.
Don't forget to check the performance of your automated extensions and understand how they impact your results in the Extensions page.
What are automated review extensions? 
Nothing is as impactful at converting a potential customer than great reviews. In a recent study, 77.3% of buyers claimed that reviews impacted their purchase decision, making reviews one of the top google ad extension for your business to use.
So how does automated review extensions work? Google gathers your ratings from reputable sources that best reflect customers' overall experience. Reviews are taken from Google Customer Reviews and Google Consumer Surveys to name a few, the below link lists the independent review websites Google sources feedback form.
Wrap Up 
In this blog we have discussed the different type of ad extensions, both manual and automatic and how each piece of information is shared/displayed. Helping you to create an informed decision when choosing which ads you will use.
At no extra cost, you are able to increase the size of your ad and take up extra screen space. Making your ad standout against other competitors and gain more visibility. What's not to like about that?
At first, ad extensions may seem like an advanced feature, but now you know how each extension works the type of information they display. Taking back control of your ads and receiving more conversions than ever.
We want to hear from you, what are your experiences with using Google ad extensions?
Author Bio – Amber Johnson is from the bustling city of Brighton and is an experienced copywriter and PPC executive. With a passion for healthy living and the latest digital marketing trends, Amber can typically be found managing client activities across Google applications and social media platforms.