Do you think that a 35% discount on all templates is a wonderful reason to get your own ready-made theme? Then, you need to mark April, 9-11 in red on your calendar because these days will provide you with this very discount! Have you been looking after your cherished ready-made solution for a long period of time? Now you will be able to get it with a stunning discount.
What are the Perks of Being an Owner of the Ready-Made Template?
To be completely honest, a ready-made template will certainly win your heart thanks to its flexibility, attractive look, and a bunch of robust functions. It has the power to save you a plenty of money and time because you get everything you need in order to build a marvelous website in one single package.
You can find a few examples of best-selling templates made by TemplateMonster below. They are designed for multiple platforms that can be called the most popular and easy-to-use nowadays.
If you don't know what CMS you need to choose, you should think over main objectives. What kind of the website do you wanna build? Will it be a captivating blog or professionally-looking business website? Anyway, you don't need to be bothered with a general process of customization because everything is too easy to be stuck in.
Perhaps, you can already imagine your perfect website that plays out in fresh colors on the web. In this case, let us help you choose something to your own liking right now…
Intense – Excellent Multipurpose Website Template
Intense is a marvelous template that will give you the opportunity to become widely-recognized on the Internet. It includes a vast number of pre-made pages that make it possible to present all possible information on your activities. In addition to this, this wonderful theme comes together with all essential features (like grid view, shopping cart page, checkout page, and others) to assist you in building a fully-fledged eCommerce website.
Monstroid2 – Admirable Multipurpose WordPress Theme
Perhaps, you're ready to do everything in your powers to achieve a stunning success but together with this incredible template, everything will be decidedly easier. In order to impress everyone with a visually-attractive website, you just need to make use of the marvelous audio and video integration, various background options, and Google Fonts. Moreover, you can easily transform your website into a wonderful eCommerce store thanks to a vast number of relevant functions.
Woostroid – Vibrant Multipurpose WooCommerce Theme
Woostroid is an incredible template that will leave all people who visit your website deeply impressed with its marvelous tools. In order to let people get familiar with your staff and their experience, this theme comes together with Cherry Team Members. In addition to this, your customers will get the opportunity to share the most exciting products on their social networks thanks to multiple sharing buttons.
Anchor – Modern Ready-Made Website Weblium Template
An information-oriented template that will make a true discovery out of your website. A clutter-free layout will do its best at presenting your content and catching the eye of your core audience. In order to give you a chance to present various aspects of your business, this incredible template also provides you with multiple pre-made pages with various elements.
BeClinic – Incredible Medical WordPress Theme
BeClinic is a stunning medical solution that will provide you with all essential tools to build a professionally-looking website. Together with a fully-featured WordPress Live Customizer, you will get a wonderful chance to play around with your design (in order to change fonts, colors, and other crucial elements). Without a doubt, your visitors will be impressed with a marvelous events calendar that will allow them to be informed on various meetings.
Cost Accountant – Stylish Consulting Website Template
Does your accounting company need some promotion on the web in order to work its way up to the top? In this case, you need to grab this impressive template that comes alongside with various animation effects, gallery types, and web forms here and now. In addition to this, your readers will adore a marvelous live search that will allow them to see search results without reloading a page.
Modicate – Modern Multipurpose Website Template
Modicate is a fashionable theme that will catch the eye of all possible connoisseurs of sophisticated websites. It comes together with different gallery types to help you showcase your high-quality pictures in the best possible light. In order to make your online-project look even more elegant, this template is equipped with an engaging parallax effect (that will give people the feel of true immersion).
Meditation – Bright Fitness Bootstrap Website Template
If you want to provide people with some amazing secrets regarding yoga and meditation, you should certainly do it by means of this bright theme. An exciting parallax effect will add even more attractiveness to your website with its opportunity to create an illusion of depth. By the way, your readers will be ready to ask you some question about your lifestyle thanks to a user-friendly contact form.
StrovTech – Remarkable Building PSD Template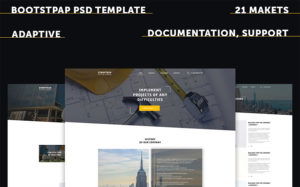 StrovTech is an excellent template that looks like a real discovery for those people who own construction companies. Thanks to a flexibility of this theme, it will take completely no efforts to work with it and edit some elements. In addition to this, you don't need to be bothered how your website will be displayed on different screens – its design will be rendered perfectly on multiple devices.
Do you hear this sound? The clock ticks and reminds you that you have only three days to grab your ideal ready-made template. For this reason, you're very welcome to take a glance at the full collection of incredible themes presented on TemplateMonster.com. You will definitely find something that will impress your imagination. Thanks for reading!