If you are looking for best ecommerce website themes, then you should totally get yourself Responsive best ecommerce website templates. For some, the premium templates are more like an out of box solutions where all you have to so is simply install, choose among the various Opencart Themes for Online Store and add products to start getting orders. Opencart Themes will make your store become more professional, more secured, more popular and increase your sales rate.
Let's get started with the best ecommerce website themes to choose from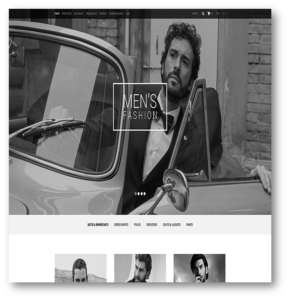 When it comes to updating the wardrobe, men may be picker then women. So, every detail of an eStore targeting mansumers matters. Choosing this elegant black and white theme you will never lose. Combining style and functionality, it lets users plunge into the world of fashion.
If your goal is to dominate in the flooring market, the following theme will come in handy. Appealing design and catchy banners work as great attention grabbers. You may feel safe every passerby will stay and browse your web store in search of the best offering.
Journal is the Best Opencart Themes with best in class features and hundreds of customization possibilities giving you total control over your store. Journal can be as simple and clean or as complex and colorful as you want it to be.
Are you a baker or chocolatier setting your foot on online selling world or looking to switch over to a new shopping site? Sweetella is here to answer your prayers. It is an opencart shopping theme that adds the best shopping cart system for your site. It is free to download and easy to install, and you can get going making your first sale as soon as possible.
You cannot possibly go wrong with a white, black and combination, which is almost the classic choice among web colors. It is a simple to use theme both for your customers to navigate and for you to work with. It has an image slider widget with two options for images to display. And its four featured image widgets make it most suitable for your e commerce site.
The highly customizable Kingstore template for Opencart is absolutely free for downloading and personalizing it for your very own website. The white background and the large image from the team, would suit most fashion brands, as it would help them display their collections easily.
As the name suggests the Kitchen Store theme would be a perfect choice for any kitchen related furniture or appliances outlet and their website. The theme is suitable to work on any modern browser and it is really flexible in terms of customization. And the best part is it is freely downloadable right here.
This cool and sleek theme for Opencart is an excellent option for a nursery or a flower boutique. The color combination makes it almost as if it was designed specifically for your flower shop. Its adaptability to all browsers and the time tested shopping cart makes it must download theme, from here.
VIgos Fashion is an Opencart theme that is freely downloadable for now. It is custom built for your fashion outlet or online fashion site to suit your sense of high fashion. It is a fully responsive theme and is compatible with the entire modern browser. It has an image slider which carousels selected pictures that you want to showcase and even a featured image widget where you can display your sales even, making it best suited for your fashion brand.
 
Are you someone who wants to have your good-looking directory, but doesn't want a heavy bloated system entangled with code that you don't understand or need? This template contains all the pages and styles you need to create your own simple to use, good looking and user friendly directory.
This beautiful theme for your Opencart ecommerce shopping solution is in a class of its own. It is one of the best ecommerce website themes that we recommend if you are using Opencart. It is a fully responsive theme that is compatible with most of your browsers. There two menu bars that gives you too many possibilities to explore and customize.
Midnight is an Opencart theme with a single menu and a huge image slider that occupies the center of the homepage. This makes it a perfect match for a fashion store's e-outlet. The shopping cart is powered by the Opencart team and is compatible with all major browsers. Download here for free
Get this minimalistic theme for your Opencart e-commerce site with documentation on easy installation guide. The theme has two menu bars and an easy navigation system that would help your customers to make the checkout without a hassle.
ShopMe is the most simplistic yet powerful Opencart theme that you can use for almost any kind of e-commerce site. The clean and sleek look is not only attractive but helps to make the visitors repeat their visits to buy more. This theme will be best suited for pharmaceutical and healthcare sites.
Harvest boasts of 10 different layouts for your very own Opencart powered online store. It has multi lingual support and Newsletter subscription module enabled, making it easier to be in touch with your customers and to make them visit again.
Dope is a fully customizable theme, suitable for Agencies and Free Lance which wish to focus on their Portfolio with 4 stunning layouts: Flex Grid, Masonry and Featured.
Dope takes advantage of all WordPress features such as post-formats, page templates, custom widgets and add new capabilities through the use of WpBackery Visual Composer.
Rider WordPress Theme is a theme designed for cyclists, bikers, and people who want to create an awesome bicycle accessories online store. It has multiple homepage styles that will help you create a unique appearance for your bicycle blog or shop. This WordPress theme includes different features that will help you build your online bicycle store and a community website or blog. It has 5 homepage layouts, multiple blog layouts, product listing and product detail pages, Instructor pages, multiple gallery layouts, events and detail pages, and dozens of shortcodes to fuel your creative ideas. Rider is fully responsive theme based on Twitter Bootstrap 3.3.5
Food and Beverages template for restaurants, cafe, bakery, pubs, bars, wineries and other companies offering foods and drinks. Enchanting design, fully responsive template with adapting display to all modern devices (desktops, Smartphone's, tablets, laptops, ipad …)
This theme is focused on essential food business features like Business Hours, Featured Dish, address and phone number display, beautiful menus, rich parallax effects, precise typography, team / about section and gallery, blog pages.
Yogy is a Multipurpose Responsive HTML5 Template Bundle designed to use for any kind of local business or startups. Clean and Modern design. Best Conversion optimized Yogy Template. It can be used for multiple purposes like: Creative Agency, Business, Startup, beauty tips, App Landing, product launch etc.
Conclusion
So if you liked one of the best ecommerce website themes from this list please comment below and let us know which one did you like…