In the last two or three years, we have seen many changes in the internet marketing world, especially compared to the past 15 years. These changes are due to two of Google's algorithm updates: Panda and Penguin. Panda downranks any site with low-quality content, and Penguin punishes sites that are spammy to boost themselves. The two have caused changes to how people are building their websites and creating their backlinks. That's why if your link building strategies are outdated, you'll be left behind. However, there are ways that you can keep up. Fortunately for you, we've compiled five key tips for helping you build a good link building strategy that will help you get results.
Guest Post     
 To apply this strategy, look for someone in your niche who is reliable and has a large audience. Talk to them, tell them what you can add to their website and send them your best content to convince to work with you. Once they've agreed to work with you, always send them your newest and best content, not what's old or recycled. Remember that when working with another site, you are building a relationship with them and their audience.
Guest posting will give you an opportunity to reach to audiences that you haven't reached out to before, plus, by doing this, you'll earn a valuable backlink for your website. The guest posting technique may be a tedious one, but it's certainly a technique worth trying.
Email Link Building
Building in-content links is crucial in the process of link building. It's vital that you have links to content of another site's page, and that's why email link building became part of link building strategies.
Email link building is a process of you sending an email to a potential linking website, and requesting them to place your link on a page where there is relevant content. You can email websites that list businesses like yours, or directories that are prominent in your niche. One good example is when you have an events planning website, you can contact a website that lists companies working on events planning.
Aesthetically Pleasing Content
Your content is the cream of the crop of your site; it's most likely the reason your audiences visit your website. That's why you need to make sure that your content is aesthetically pleasing.
How to Make Your Content Aesthetically Pleasing:
Add images.
Add music.
Add videos.
Add infographics.
People enjoy content that is accompanied by images, videos, music or infographics , which allows you to  share data in a graphic and pleasant looking way. If you have the patience and time to integrate or create these different types of media for your content, you're increasing the chances of your content being shared by the people reading it. And when people share your content, this will result in new links referenced on another site.
Making your content aesthetically pleasing can take time and money, but when you do it right, it will result in backlinks more than you can count.
Viral Content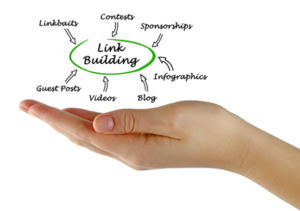 Believe it or not, but one of the most effective link-building tactics doesn't involve you doing any outreach at all.
Viral content is highly valuable and shareable content. When you publish content like this on your website and plant its link on your site's social media accounts, you can quickly get noticed by people. People would want to share your content, and if they do, it may lead to an influx of the number of backlinks that you can get. This influx of backlinks can happen without your direct involvement.
 How to Create Content That Will Go Viral:
Make content that would inspire, excite or amuse your readers.
Create content that is educational or practical.
Make sure your content has high readability.
Your content should have power words in either their title or introduction.
Make sure that your content has credibility.
Create content that's visually appealing.
Find inspiration in current trends and create content that will be popular now.
Make sure to publish your content during peak hours.
Competitors' Links.
 You should take time to analyze the backlinks of your competitors, because doing this may give you an idea of potential sources where you can post your links.
You can examine the link profile of your competitor by using tools like OpenSiteExplorer from SEOmoz and Majestic SEO. Both of these tools will let you view any site that's giving a link back to your competitors' sites.
Just make sure that the sites you get backlinks from are:
Under the same industry as yours.
Relevant to you or your readers.
Those that share relevant content with yours.
Linking you for content within the same context of your site.
With ever changing times, you need to be able to keep with it. And no matter what kind of strategy you will cook up for the coming years, never forget to reach out to people within your niche, please your readers and watch out for your competitors. These No BS tips will help you build a good link building strategy that would give you results.
Aaron Gray
Aaron Gray is a leading digital marketing expert in Australia, specialising in Blogger Outreach services through No BS. Aaron's goal is to deliver professional blogger outreach to clients. He's dedicated to hard work, his job, and loves to travel in his downtime.