Mailbird is a Outlook and Windows 10 Mail App killer. I know that is a really strong statement but it is the truth. In this Mailbird review I'll not only prove why Mailbird is the best email client for Windows but also share some of it's drawbacks. Now you can connect all your favorite email, calendar, task and messaging apps into one using Mailbird, which is really an all in one online communication hub. Oh! one thing I forgot to share with you is, Mailbird has been awarded best amongst its competitors by renowned magazines such as PCWorld and IT World. So let's dive into the Mailbird review and learn more about it's pros, cons and of course the features it has to offer to the Windows users.

So let's see what we are going to cover in this review:
What is Mailbird?
Mailbird Features
Why it is the Best Email Client for Windows
Drawbacks of Mailbird
Options to Get your Mailbird copy
As you already get the idea how awesome this review gonna be I'll continue the review…
What exactly is Mailbird?
Mailbird is the best email software for Windows which is beautiful, fast, and intuitive. Mailbird is not just your another email tool, it is actually much more than a regular email application. Mailbird allows 3rd party developers to build and integrate productivity and social apps with Mailbird's email platform. Mailbird is offered for free, a Pro plan and a lifetime plan. Full IMAP support now available.
An overview of Mailbird
Multi-account (Supports IMAP & POP3)
Complete touch support
Integrated messaging apps
Integrated task management apps
Unique productivity features
Supports 17 languages
Integrated calendar apps
Customization (Colors & layout)
Mailbird brings the convenience with integration amongst different tools and apps, delivering a perfect all-in-one online communication platform. Many email clients today have limited their innovation and removed any adaptation to how people communicate and work online today. We don't need another email client, but one place for all of it – email, messaging, calendar, tasks, video meetings and much more.
Features of Mailbird
Mailbird offers you the features which will turn you into an Email Ninja. Mailbird offers a wide range of unique features and most of them are really innovative. In this section I'll cover the whole feature list of Mailbird.
Personalized
Productive
Secure
Social
Support
Personalized
Mailbird is the only email tool I've seen which is fully customizable as per one's personal needs. Inbox is your private space and customizing it enhances your experience specially when you have to spend a lot of time in it. From choosing your inline reply color to the custom icons for your account, Mailbird's personalization features are bound to take your email experience to the next level.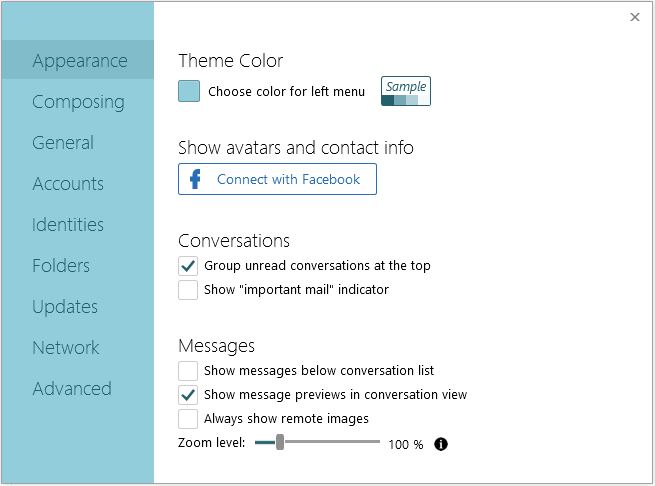 So how personalized you can make your Mailbird. Check out the below list.
Customize your account icons
Text formatting
Conversation view
Zoom adjusts the default font size to just the way you like it
Pick your in-line reply color to flawlessly format email replies
Customize your email signature for every email identities
Create your own Quick compose shortcut
Mailbird apps- Dropbox, Evernote, Facebook, Contacts Manager, Asana, Google Drive, Calendar, Veeting and more.
Multi-language support
Productive
Apart from making you a Email Ninja Mailbird also makes you super productive. Mailbird is the only email client I've seen which has been optimized for speed which ensures you don't have to wait to check your urgent messages.
Mailbird have managed to create the fastest email application ever, both in terms of processing speed and workflow speed. Quick compose and response to cut down on emailing time inline action bar to organize everything in a flash, seamless offline access to manage your email from anywhere. And that's just scratching the surface.
So what makes Mailbird a productive email client for windows:
Group all email accounts in one with Unified Inbox Plus
Advance touch support. Swipe and tap on touchscreen devices.
Keyboard shortcuts
In-line reply
Quick compose
Multi-account support for IMAP and POP3 accounts (max 3 for Lite, unlimited for Pro)
First email speed reader (max 5x/day for Lite, otherwise its a Pro feature)
Drag and drop
Folder support
In-line action bar
Quick preview of attachments (max 5x/day for Lite, otherwise its a Pro feature)
Wingman (in development)
Profile picture search
Security
Mailbird was developed to never scan the content of your inbox or other personal information. When you use Mailbird be rest assured that your messages and content are for your eyes only. That's how secure Mailbird is.
Security Features of Mailbird:
The best technology by industry standards for message handling of top email servers
Email encryption (in development)
Social
In the digital age when you need to be connected all the time, Mailbird makes it simpler for you by adding third party apps that you can use directly inside Mailbird. It even helps you develop your professional network by integrating a one click 'LinkedIn Lookup' feature.
Stay Connected right from a single application. Platforms supported:
Facebook
Twitter
DailySocial
LifeHacker
Techcrunch
LinkedIn Lookup
Support
If you need any help Mailbird support team is there. Just email your queries at 
[email protected]
 or you can also submit a ticket at
here
.
Why Mailbird is the Best Email Client for Windows?
I hope you have already understood why Mailbird is the best email application for windows. But following are the points I think that makes Mailbird the best email client for Windows OS.
Everything in this world has it's advantages and disadvantages. Apart from having a great list of features Mailbird also has some drawbacks.
Mailbird is not available for Mac and Linux
Mailbird is also not available for mobile platforms such as Android and iOS.
For some people scrollbar is not comfortable as it is a minimilastic one
Not open-source (I really loves opensource stuff)
Limited Apps available (But I think they'll add more in future)
No advanced filtering options
Options to Get your Mailbird copy
You can get your hands on Mailbird for absolutely free. Mailbird offers a flexible pricing plan which includes Lite version (which is FREE), Pro version which costs $12 annually and a Pro Lifetime version which costs only $45 one time fee. You can check what you get with each different plan in the following picture.
Bottom Line
Well I'm not in affiliation with Mailbird and this review is just to help Web Designers, Entrepreneurs, and everyone who uses email, stay productive at their work. I've already shared the ultimate list of productivity tools on my personal blog which you may like to checkout. I'd love to listen to your thougths, share your thoughts in the comments section below.